We are the Women's Fund, (Fiji)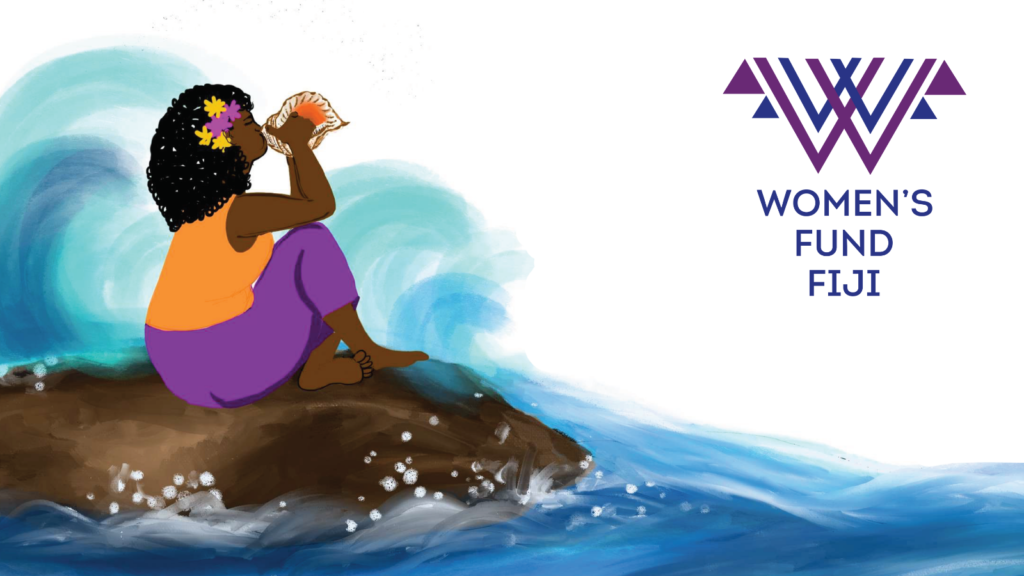 Illustration by Vidushi Yadav.
It's been a full year since I wrote my last blog on localisation as an independent Fund. I had written about how the transition is a matter of the heart, mind, body and soul. There is truth to those words even now.
When I look back on the year, I am filled with nostalgia. I remember moments of doubt and anxiety. But more than that, I vividly remember moments of sheer determination, resilience, courage, kindness, and clarity. With a small team of eight members, we have weathered these emotions.
In a context filled with a global pandemic, gruelling storms, and rising tides, we have remained steadfast towards becoming an independent entity. This month, that goal has come true with our registration as a legal entity under Fiji's Charitable Trust Act.
We are the Women's Fund (Fiji)!
What does being an Independent entity mean?
The goal from the beginning was that the Fund would become an independent local entity led by Fiji women's rights and feminist movements, secure funding from donors, private sector and local philanthropy.  We want the Fund to respond and belong to women, girls and gender non-conforming people in Fiji, and to draw upon and contribute to the wealth of knowledge and experience in the feminist and women's rights ecosystem in Fiji, the Pacific and beyond. This is explained in our blog on the struggle to resource women's rights and feminist organisations in the Pacific.
Being independent means having a legal entity and identity that is situated in Fiji's legislations with our own accompanying governance structures – an autonomous national women's fund whose work is guided and driven by women's rights and feminist movements.
What's changing?
Along with our registration, we have also transitioned to a new governance structure that is made up of a Board of Trustees, a Governance Board and Grants Committee. Alongside these changes, we have also developed a three-year Strategic Plan for 2022 to 2024 with internal changes to our operations, human resources, grants, policies, and procedures. In the coming months, we will share more on the processes we undertook, what we learned from our localisation experience and introduce you to our new Governance Board.
Whilst our name has changed due to limitations in the Charitable Trust Act which prevents us from using the word "Fiji" as a first word in our name, our logo remains the same. We are strongly connected to our logo because it was born out of the collective ideas and input of feminists in Fiji. Our logo uses downward triangles, drawing from ancient symbols of women's divinity and the symbol of water. Interwoven with the downward triangle you will notice double lines which are like the individual strands being woven into a mat. For us, this was intentional as it communicates the idea of women working together and supporting each other. Tiriseyani Naulivou and I also discussed this metaphor in an earlier blog.  For us at the Women's Fund Fiji, our logo remains relevant, timeless and part of our herstory we want to honour.
A key aspect of our transition to independence was the development of our Trust Deed – the legal document that guides the Fund's work.  Part of this process was the elaboration of our vision, mission and values.  Transitioning from being a program to a registered entity, provided us with the opportunity to define these for the first time.
When we started this journey four years ago, we had not yet formulated our vision and mission. At least not formally. But we have always envisioned for ourselves a world where everyone is equal; a just and equal world for diverse women, girls, and gender non-conforming people; a world of equal rights for all people, everywhere. In 2020, the team spent two days to collectively articulate, share our thoughts and feelings, breathing life into the kind of organisation we aspire to work for.  For us the process was our contribution as pioneers developing and shaping the guiding principles we will be upholding in all that we do
I am extremely ecstatic to share with you the fundamentals of the Women's Fund (Fiji):
Our Vision
We see ourselves as an agent of change influencing the flow of resources to diverse women, girls, and gender non-conforming people in Fiji.
Our Mission
We are an empathetic and adaptive feminist fund that influences and mobilises financial and non-financial resources for feminist and women's rights organisations and movements, and our grantee partners, to progress the human rights of diverse women, girls, and gender non-conforming people in Fiji.
Our Values
Feminist
We are feminist. We promote transformative agency, autonomy, leadership, and decision-making. We are committed to supporting approaches that advance the rights of diverse women, girls, and gender non-conforming people. We practice rights-based approaches, substantive equality, non-discrimination, intersectional and transformative approaches.
Flexible & Adaptable
We are responsive to shifting contexts and circumstances. We are willing to examine the value of strategic opportunities to meet the needs of our partners.
Accountable
We are accountable to ourselves and to the community of people we work with, including our grantee partners, funders and the women's and human rights movements. We are committed to being accountable by appraising and communicating the outcomes of our grantmaking and sharing our learnings.
Transparent
We strive to be transparent in the way we conduct our grantmaking, resource mobilisation, communications, administrative and governance processes, without compromising on the confidentiality and safety of our grantee partners.
Inclusive
We empathetically embrace diversity and are inclusive. We are committed to actively promoting, respecting, and supporting the rights of the most marginalised and oppressed communities of diverse women, girls, and gender non-conforming people in Fiji.
Collaborative
We believe in the power of social movements. We are committed to forging collaborative partnerships with the community of people we work with, including our grantee partners, funders, and allies to achieve shared goals.
Stay tuned for our upcoming blogs which focus on our Trust Deed, our very first Strategic Plan and much more!
About the Author
Michelle Reddy is a Pacific queer feminist and women's rights activist who has worked in the women's movement for 15 years. Michelle currently serves as an advisory member for the Pacific Feminist Fund, Equality Fund's Catalyse Program and United Nations Pacific Insurance and Climate Adaptation Programme under the UN Capital Development Fund. She is also a Co-Coordinator of the Prospera Asia & Pacific Chapter of Prospera International Network of Women's Funds. A lover of sarees, snail mail and most recently gardening, Michelle is a strong believer in collective well-being and self-care.