When feminists dream and turn those dreams into action, GREAT things happen!!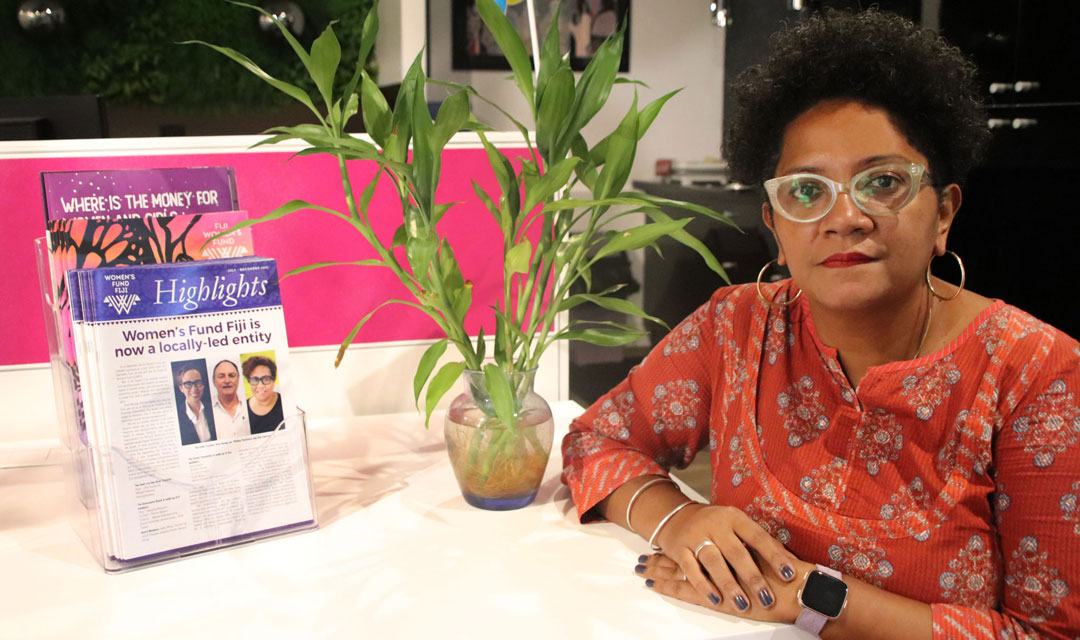 Dear Reader,
The title of this blog is inspired by my feminist ally, Virisila Buadromo who shared this when the Women's Fund Fiji (WFF) became a registered entity. I recently finished my term as the WFF's Fund Manager, a role that I held since the inception of the Fund in 2017. What an amazing journey it has been, to have led the establishment of the first national women's fund in Fiji and the Pacific. The idea of a women's fund managed and led by Fijian feminists started many years ago in a few small, under-resourced offices, homes and spaces with an overworked group of enthusiastic, passionate and fiery women's human rights defenders. I know this because I was part of those many conversations, having previously worked in a well-known feminist organisation.
This blog, dear reader, are some reflections of my basketful of reflections from a truly inspiring journey with the Women's Fund Fiji. It does not outline all of the Fund's achievements as these are captured in our annual reports which you can access here.
This blog focuses on what is generally called soft skills but really crucial human skills, on, our ways of working, how we interact with other people, and what research suggests is the number one leadership skill: EMPATHY.
I have come to value the pricelessness of relationships that one has with people. In my journey, it has been relationships that have been the true binding agent in the success of the Women's Fund Fiji. Relationships matter: the relationships we have with ourselves, our team members, their family members, our governance boards, grantee partners and stakeholders in our eco-system – they all matter! Each relationship is different, and it takes time, trust, resources, and commitment to nurture and sustain.
The herstory of the Women's Fund Fiji is linked to the many relationships and the work of women's human rights defenders, feminists, and activists in Fiji and around the Pacific who came before me. They fought hard and continue to fight every day against patriarchy, so that women, girls, and gender non-conforming people can fully exercise their human rights. I believe that the birth of the Women's Fund Fiji would not have been possible without the women's movement in Fiji. I stand on the shoulders of those who have joined our feminist ancestors and I have a responsibility to those who come after me.
When I joined the Fund, I was intentional in exploring the kind of feminist leadership I wanted to practice and embrace. I wanted to be a nurturing and a visionary feminist leader. My experience earlier had taught me that a leader has great deal of influence in either nurturing or damaging people in their organisation and ecosystem. I knew that being an empathetic feminist leader was possible in a world filled with pain and anger, and that there is so much power in empathy, love, and kindness.  
My colleague, Tiriseyani Naulivou, coined this phrase which I think is fundamental: "having a learning and teachable spirit." This simply means that one is always open to learning each day from one's various experiences and relationships, and that each of these brings with it a treasure of opportunities to be visionary, to create, to reflect, to learn, to fail, and to soar.
I have learnt to fall forward by leaning into the uncomfortableness with a learnable and teachable spirit. I have also come to embrace failures as an opportunity to learn about myself and about others. I have used those learnings to pave a way forward with empathy, love, and kindness. I have also grown comfortable in admitting that I do not have all the answers and seeking guidance from those around me, and that in the almost five years of setting up the Women's Fund Fiji, I was never alone- my feminist champions and allies, my feminist tribe was with me.
I have also come to honor the power of individual self-care and the power of collective well-being. At the Fund, we turned a conflict we all experienced into an opportunity to focus within our team on how we work with each other and how we work with others. It was truly a transformational exercise and one that was initially not easily embraced by all our team members.
Since 2020, and under the guidance of facilitators, Dr. Marilyn Cornelius and Asinate Korocowiri, we would spend a whole day every month  exploring concepts that ranged from values, trust, mindful communication, setting boundaries, grief, and transition. Those sessions were deep, uncomfortable, and empowering. These team dynamics sessions allowed us to be vulnerable, to build trust, and to truly learn about each other and to have rituals for ourselves.
For eight hours a day, five days a week, we work with each other as a team. That is a lot of time to spend together. And so, it only makes sense to take the time to learn how we work (and how we can work better) and interact with each other. We should bring our full selves to our working environment and to think otherwise, is what I believe, truly limiting.
At the Fund, I am proud to be a pioneer in making and holding space with my team members to learn about ourselves so that we can be vessels of transformation in achieving the mission and vision of the Fund. If our values as a Fund and as a team are being feminist, transparent, accountable, inclusive, collaborative, flexible and adaptive, then surely, we need to explore what that looks like in practice with each other and with others that we work with.
So dear Reader, before I end, I'll leave with you this one nugget of a question to ponder on which has always helped center me whenever I am at a crossroads: How am I truly putting into practice my values whether it be in my life, in friendships, relationships, and in the different spaces I am part of?  
About the Author
Michelle Reddy is a Pacific queer feminist and women's rights activist who has worked in the women's movement for 15 years. Michelle led the establishment of the Women's Fund Fiji as the Fund Manager from 2017 to March 2022.
Michelle currently serves as an advisory member for the Equality Fund's Catalyse Program and United Nations Pacific Insurance and Climate Adaptation Programme under the UN Capital Development Fund. She is also a Co-Coordinator of the Prospera Asia & Pacific Chapter of Prospera International Network of Women's Funds.
A lover of sarees and snail mail, Michelle is a mom to several fur kids.