Remarks by Menka Goundan, WFF Executive Director: Women's Fund Fiji's FIRST Birthday as an independent entity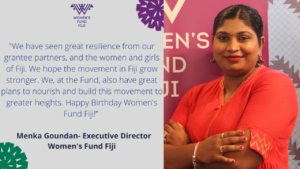 On July 22, 2022, Women's Fund Fiji (the Fund) celebrated its first birthday as an independent entity.
Speaking on the Fund's progress, the Fund's Executive director, Menka Goundan said the Fund has achieved many milestones in the 12 months of its operation as an independent entity.
These milestones, she said, included settling in its new office location in the heart of Suva city, strengthening of the Fund's systems and processes, as well as undergoing comprehensive diligence criteria so that it is an accountable, transparent organisation.
A major milestone also included the Fund's successful 2022 Grant Call opening in June this year, evident in the quality of grant applications received from women groups, networks and organisations.
"We received overwhelming and quality applications from across Fiji. This is testament to your trust and belief in the Women's Fund Fiji, and we thank you for that," Menka said.
"Looking at those expressions, we see the vast array of good work that the women and girls are invested in, in Fiji. With this, we hope the movement in Fiji grow stronger. We at the Fund also have great plans to nourish and build this movement to greater heights," she added.
The Fund began implementation in 2017 as a five-year initiative of the Australian Government's Pacific Women Shaping Pacific Development (Pacific Women) program. The Fund became registered as an independent entity under Fiji's Charitable Act in July 2021.
The Fund works with women's groups, networks, and organisations in Fiji across six thematic areas- Women's Economic Empowerment; Ending Violence Against Women and Girls; Women's Leadership and Decision Making; Strengthening Women's groups and Coalitions for Change; Climate Justice and Humanitarian Action; and Aid and Philanthropy.
Since 2018, Women's Fund Fiji has awarded 68 grants to 38 feminist and women's groups, networks and organisations amounting to AUD 4.2 million, and has reached 34,839 people, inclusive of 21,109 women and girls, 12,867 men and boys, 641 people with disabilities (354 women and 287 men) and 222 gender non-conforming people.
About the Fund:
Women's Fund Fiji is the Pacific's first national women's Fund. It is an empathetic and adaptive feminist fund working to influence and mobilise financial and non-financial resources for feminist and women's rights organisations and movements, so they can progress the human rights of women, girls, and gender non-conforming people in Fiji.
Useful links:
Media Contact:
For more information about the Fund and this release, contact the Fund's Communications Officer, Onorina Saukelo, on +679 702 1507 or email: onorina.saukelo@womensfundfiji.org