Grantee Partners share work experience during COVID-19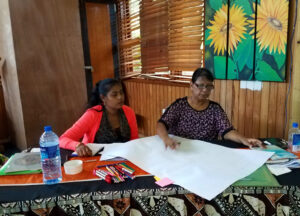 The Women's Fund Fiji (the Fund) hosted the Gender Equality and Social Inclusion and Financial Management workshop for its 2020-2021 grant call partners at the Uprising Beach Resort, Pacific Harbor. The workshop was held from 1-6 May 2022 which was the first time since the COVID-19 lockdown in April 2021 that the Women's Fund Fiji (the Fund) team got to come together with some of its grantee partners in the same room.
This presented an opportune time for the grantee partners to share with each other and with the Fund team their learnings, experiences as well as challenges during the COVID-19 pandemic.
Speaking to the Fund, President of the Soqosoqo Vakamarama Kadavu, Livia Tubunawasa said activities could not progress due to COVID-19 restrictions. According to her, there were communications challenges with women from different villages due to network problem, and she had to sought ways to relay important messages such as checking in on how women were coping with the pandemic as well as get updates on the status of their activities.
"I would like to thank Women's Fund Fiji for distributing  face masks provided by the Rotary Club of Suva East, which we packed for distribution to the villages. Getting in touch with the women in some villages was challenging. Network was down for quite a long time. When we could not get to the women over the phone, I had to pass on messages to fiber boat drivers and truck drivers from those villages to relay message across and this worked," she said.
Focusing on strengthening networks of women's groups and livelihoods, Soqosoqo Vakamarama Kadavu comprises of 17 women's groups in five districts in Kadavu.
Building Innate Resilience Through Hearts (BIRTH Fiji) Coordinator, Nisha Khan said home visits were difficult during the pandemic, so they mostly attended to clients over the phone, and only visited the ones that needed urgent help. According to her, there was a flood of requests coming in, so they had to strategise based on what was possible whilst ensuring staff safety.
For instance, during COVID-19 they received a call from a woman whose husband was bedridden due to a spinal injury. They had neither food, money nor a place to stay as the husband was no longer employed due to his condition. The BIRTH Fiji team paid a visit to attend to their needs and made arrangement for their move to Koroipita.
"We attended to cases based on intensity and urgency, and those we can refer to other similar support services, we refer clients there and do follow up to see if they did get the intervention needed," she said.
In April 2022, BIRTH Fiji distributed more than 300 food vouchers worth of $20,000 mainly for single mothers who have been through domestic violence and are separated from their partners leaving them with no source of income.
Established in 2019, BIRTH Fiji provides free professional counselling, community education and social services in the western division.
BIRTH Fiji's mission is to build strength and resilience amongst victims of abuse and discrimination through assistance with self-acceptance and help the growth of survivors.  They have a regenerative system that not only removes stigma but creates a safe environment that serves as a form of hope for survivors of mental, physical, financial or/and emotional abuse and discrimination.
Vanualevu Arya Mahila Mandal Project Secretary and Assistant Manager, Prem Lata Bhan said work was on hold due to COVID-19 lockdown but as soon as the restrictions were lifted, they managed to progress with activities.
"One of the biggest challenges we had during the pandemic was communication, we were not allowed to go out. Due to social gathering restrictions, we were unable to conduct meetings and other activities under the grant. It was difficult but we managed to do some of the things through phone. We also cut down on the number of people that could go for training, they would come back with information and share to the small groups. It was hard but we coped, "she said.
As COVID-19 restrictions lifted, the group managed to carry out trainings with six women groups to enable them to carry out their work. Trainings were conducted around tailoring, bee keeping, beautician skills, musical skills, and decoration skills.
Vanua Levu Arya Mahila Mandal, the Women's Wing of Vanua Levu Arya Samaj is a faith-based group based in Labasa that consists of six smaller community women's groups (Mahila mandals). They are supported through a sustainability grant from Women's Fund Fiji for the implementation of Economic Empowerment Project for their members.
President of Kioa Women's Organisation, Malia Mani shared how the group worked to empower women with skills whist ensuring their family basic needs were attended to.
"We have a shop in the island where we assign eight women to take turns fortnightly to manage the shop. We paid each women $50 to help with their family needs. Once the two-week period is over, we call a meeting where everyone come together and share updates, how many in sales they make, what they have learnt and how their experience has been, and then we re-elect the next eight members," she said.
According to her, the rotation continues until all women in the island have taken a turn.
For the Pacific Rainbow Advocacy Network (PRAN), COVID-19 restrictions affected employment. They did not have proper face masks or have sanitizers, so were being chased by authorities.
Sharing with the Fund, a PRAN volunteer expressed appreciation towards the Fund's support in providing face masks and sanitizers that were distributed to their members.
A major support received from the Fund included supply of seedlings that were distributed to PRAN members which they could later sell or use it for family consumption. Spread out in the western division, the group would normally gather in groups to help in planting however social gathering restrictions during the COVID-19 pandemic meant only a few could go out to help.
During the pandemic, PRAN worked with Rise Beyond the Reef, also a grantee partner of the Fund, via the Basa exchange-– Covid Relief Inclusion for Rural Remote Communities which involve buying fresh produce from rural remote communities which would then be distributed to those who need it in other areas.
The PRAN volunteer said they worked with the Nagado Women's club who were facing problem with selling their produce due to transportation challenges.
"Coming from the highlands to Nadi or Lautoka costed around $250- $300 which they could not afford. We looked for a transport that took us to the highlands and we bought the produce from them in their own homes, and distributed it alongside basic needs to our members who did not have any source of income due to COVID-19," she said.
According to her, members whose employment were affected had to return home to their families as they could not afford to rent out as they used to when they had employment.
"The visitation to families were an emotional experience. The family did not know about PRAN and did not expect to receive assistance from us during this difficult time," she said.
She added PRAN plans to resume activities that were halted due to COVID-19 restrictions later in the month with members in Ba, Lautoka, and Nadi.
PRAN is a community-led network in Lautoka comprising about 80 members with diverse sexual orientations and gender identities, including homeless people, single mothers, people living with disabilities, and former and current sex workers. PRAN advocates on the issues and needs of its members, including human rights, decriminalisation of sex work and access to essential services.