Sustaining a vibrant feminist movement in Fiji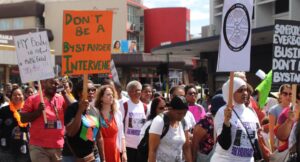 By Erica Lee and Tiriseyani Naulivou
Transformative change for women happens when diverse feminists and women's movements use their strength, resilience, collective power and diverse voices to influence different spheres of influence.
According to William Parkinson, the vibrancy of the feminist and women's movement requires strong governance, investment in leadership and funding, especially in grassroots organisations.
While William is the lone male voice on the Women Fund Fiji's Board of Trustees, he is certainly no stranger to the women's and feminist movement having been raised by one of Fiji's pioneering members of the Young Women's Christian Association (YWCA).
"I remember running up and down the stairs of the YWCA offices when they were above the old Suva  Town Hall where my mother would spend her days working with early activist aunties like Adi Davila Toganivalu my kindergarten teacher, Ruth Lechte, Anne Walker, Amelia Rokotuivuna, Taufa Vakatale and Suliana Siwatibau."
Susan Parkinson, William's mother,  was a fierce feminist who led the building project resulting in the YWCA building that stands tall on Suva's Sukuna Park (now Devos on the Park Hotel). This was no easy task, taking place in a time when Fiji was just exiting colonial administration. The idea that women could lead a process of change was quite alien.
"These women were revolutionary, introducing ideas that in those days were labelled radical.  They had a hard time, yet they pushed for women's voices to be included in leadership and decision-making spaces.  Men couldn't believe that a group of women could be so vocal and they were also surprised that this group could project manage an entire building.  They annoyed a lot of people and ruffled many feathers," added William.
At an early age , William marched alongside his feminist aunties at a series of women-led campaigns such as the anti-nuclear movement protests and other political marches.  Their contributions changed the way women in Fiji and the Pacific interacted in politics.
The YWCA was known for also providing critical safe spaces for women in terms of vocational learning and providing inexpensive housing for young women who had come to Suva to study or to start their careers.
In the 1990s a change in direction and the reduction of many of YWCA's programmes created a vacuum that gave rise to organisations like the Fiji Women's Crisis Centre and the Fiji Women's Rights Movement and the next generation of activists like Shamima Ali, Imrana Jalal, Atu Emberson-Bain, Sufi Dean (William's wife) who he says became some of his closest friends and stood on the shoulder of his early activist aunties.
From 2012 – 2020, the YWCA also faced considerable challenges that ranged from internal governance, leadership transition and a disconnection  from major key movement initiatives in Fiji and the Pacific.  In 2021, the YWCA was been revived under the leadership of Tarusila Bradburg, Sharon B Rolls and Rosie Catherine paving the way for Women's Fund Fiji grant supporting its new three year Strategic Plan.
Joining the Women's Fund Fiji Board of Trustees
When asked what drew him to becoming a Trustee of the Fund, William said he was excited about the opportunity to provide support to an organisation invested in women's development especially grassroots women's groups. William is passionate about driving change through leadership at all levels of the community saying that more national initiatives needed to be locally driven and involving women.
"Many organisations providing grants for women  don't recognise or support rural women or small village groups because they are seen as hard work.  Small organisations struggle and drown with the level of compliance imposed by funding agencies under due diligence requirements.  They become so inundated with compliance and begin to lose sight of their organisational goals and objectives. "
William says he was moved by the women's funds modality and the philanthropic work that it promotes giving women and feminists the resources and the opportunity to decide and define the work that they want to do in their own communities.
"Across the Pacific, women have been a wasted resource, society blocks opportunities that allows them to participate in leadership and anyone that doesn't recognise and take advantage of their voices, education and experience is just silly."
Even in his own businesses in Fiji and Papua New Guinea, William says that women make up to  90% of his leadership team .  He adds that this does not come from his feminist upbringing but from his strong belief that its just common sense to use the best talent available.
His passion for leadership and philanthropy also led to him co-founding and Chairing Leadership Fiji a bi-partisan entity aimed at assisting emerging leaders to cope with demands of the ever-changing world.  Leadership Fiji has been running since 2001 and has to date supported the leadership development and growth of around 500 Fijians through the core program and hundreds more via shorter leadership  courses.  The program focuses on helping participants explore their own values, philosophies, prejudices and beliefs through a variety of issues offered by the program and uses guests speakers and industry visits with the private sector, non-government organisations, government ministries, youth and faith based organisations.
William believes the localisation of the Fund (previously an Australian initiative) and through its diverse leadership group will allow for a much wider spread of investment, supporting a diverse range of organisations in the movement to contribute to transformative change.
He hopes to contribute value to his new role as a Trustee and says the Fund is at a critical stage in its journey where it is working on its foundation, developing internal policies and best practices that will ensure its sustainability.