Reconnecting through in-person interaction: WFF grantee partners laud networking and relationship-building opportunity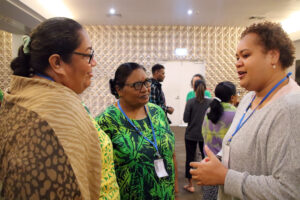 The Women's Fund Fiji (the Fund) held its 2022 annual reflection and learning workshop from 19-20 October in Suva, Fiji. A key event of the Fund, the workshop was attended by 27 members drawn from 20 grantee partners working to advance gender equality in Fiji, with some participants travelling from some of the most remote parts of Fiji to attend the workshop.
The key area of discussion at this year's workshop was women's leadership and decision making (WLDM). Grantee partner transitions, from working in women's economic empowerment, to working in WLDM; shared learnings on women's leadership in intergenerational spaces were topics that presented opportunities for learning and strengthening work in these areas, while also contributing towards building a Fiji understanding of barriers to women's leadership and decision making, and exploring relevant solutions.
Speaking to the theme "Defining and Nurturing Feminist Leadership", grantee partners reflected on overall progress and key issues related to feminist leadership, particularly in post-COVID-19 conditions. They also spoke and reflected on specific achievements, strategies and lessons learned; increased knowledge and skills in key areas through peer learning and expert panels; and strengthening relationships.
Every year, the Fund holds reflection and learning workshops, recognising it as an important platform for grantee partners and the Fund team to reflect on achievements, challenges, and be exposed to new ideas. In rating the quality and relevance of the workshops, grantee partners found the discussions, panel sessions and networking as being crucial in working towards and achieving collective goals.
Prior to becoming an independent entity, the Fund held similar workshops from 2017 to 2020 in collaboration with Pacific Women. Since the transition, the Fund hosted its first independent annual reflections and learning workshop, although this was held virtually in October 2021. This year's workshop was the first to be held in-person or physically with the Fund opting for face-to-face interaction as COVID-19 restrictions have eased, and also to allow grantee partners the opportunity to reconnect and strengthen relationships.
Following the approach taken in previous years, this year's workshop recognised the expertise of grantee partners and the importance of formal and informal spaces to learning, sharing, and building relationships, networks, and capacity. The workshop content and modality proved effective towards grantee partners' learning.
Udu Point Women's Initiative Secretary, Josivini said, "The workshop broadened my understanding around leadership and what makes a good leader. I've learnt a lot from the workshop's content and will share these learnings with our women's group."
Vanua Levu Arya Mahila Mandal President, Nirmala Devi shared similar sentiments.
"I learnt a lot from the workshop and was glad to be part of it. Even though I am a leader in my current capacity, I've learnt more of how I can be a better leader for my community and organisation, and I believe in future, this will help me become a better leader for the country as well," she said.
Kioa Women's group member, Tarawa Tekabu said, "I learnt about the responsibilities of a good leader and also the roles members under a leadership can play to support/strengthen good leadership, particularly values around trustworthiness, and equal treatment without discrimination."
President of the Soqosoqo Vakamarama Kadavu, Livia Tubunawasa voiced appreciation for the opportunity to interact and network in-person.
"I learnt a lot. I would like to thank Women's Fund Fiji for the opportunity. Over the two days I made new contacts and shared as well as got exposure to new ideas. Not all the ideas shared were applicable to the rural community setting, but the ones that were, were very useful. We can take these back and put it into practice to improve our ways of working," she said.
Learnings from the workshop will be documented in the Fund's annual report and will inform ways of working better in future.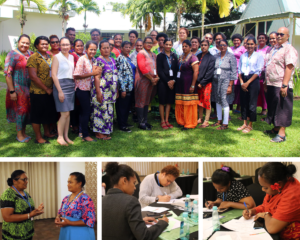 Grantee Partners represented at the workshop included Building Innate Resilience Through Hearts Fiji, Fiji Cancer Society, Fiji Disabled Peoples Federation, Fiji Women's Rights Movement, Fiji Girmit Council Women's Wing, Kioa Women's Group, Labasa Women's Forum, Medical Services Pacific, Naitasiri Women in Dairy Group, Pacific Centre for Peacebuilding, Pacific Rainbow Advocacy Network, Rise Beyond the Reef (connected virtually), Soqosoqo Vakamarama Kadavu, Soroptimist Sigatoka Club, Transcend Oceania, Udu Point Women's Initiative Group, Vanua Levu Arya Mahila Mandal, Women Entrepreneurs Business Council, Women in Fisheries Network Fiji, and the Young Women's Christian Association Fiji.
About Women's Fund Fiji
Women's Fund Fiji, formerly known as the Fiji Women's Fund, is currently the only national women's fund in the Pacific. We came to being as an initiative of the Pacific Women Shaping Pacific Development Program, funded by the Australian Government Department of Foreign Affairs and Trade (DFAT) in 2017. We registered as an independent local organisation in July 2021.
We contribute towards strengthening feminist and women's rights movements in Fiji by providing financial and non-financial resources to rural, remote, and marginalised organisations, networks, and groups, through grantmaking and capacity development support. We also lobby and advocate to transform philanthropy in Fiji and the Pacific to increase feminist resources for diverse women, girls, and gender non-conforming communities.
Media Contact:
For more information about the Fund and this release, contact the Fund's Communications Officer, Onorina Saukelo, on +679 702 1507 or email: onorina.saukelo@womensfundfiji.org